Portsmouth Medical Weight Loss Center Q&A
If you have struggled in the past with losing weight, or you want help from medical professionals to lose weight safely and effectively, Portsmouth Family Care is the medical clinic for you! Visit us today to set up a weight management consultation with our weight management clinic and doctors. For more information, contact us today or schedule an appointment online. We are conveniently located at 101 Shattuck Way Suite 2 Newington, NH 03801.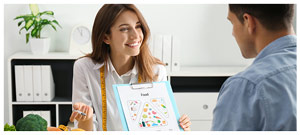 Table of Contents:
What is medical weight loss?
How can a doctor help me lose weight?
What are the benefits of medical weight loss?

What is medical weight loss?


Medical weight loss is a medical program available to our patients and is overseen by medical professionals in partnership to help you lose weight safely and effectively. Medical weight loss helps to keep the patient accountable when they may become unwavering towards their main weight loss goal. As well, they have access to knowledgeable doctors and specialists helping along the way of their weight loss journey to help the patient shed the weight safely and effectively while making sure they do not lose muscle, bone, and water. In the end, we look at the bigger picture than just weight loss, and our focus on your weight loss goal is knowing your will stick with these changes for life to keep you healthy over a long period of time.

When working with our team, you will notice you will begin to lose weight quickly while keeping a healthy lifestyle and getting all of the nutrients your body needs in order to function properly.

Our team of medical professionals undergo a screening process once you start your weight loss journey with us, this screening is done to collect as much valuable information about your health and your health history to input into your file and use as a resource when moving along your weight loss journey. We may utilize a few items like a history and physical exam, lab testing, EKG and body fat analysis. After this, we will discuss the weight management program with you and how it will help you to reach your weight-loss goals.
How can a doctor help me lose weight?


If you are looking to lose extra weight that is keeping you back from a healthy life, our clinic can help. Medically supervised weight management clinics provide doctor supervised weight loss programs that are helpful to patients who have experienced troubles trying to lose weight in the past, or if they have any medical conditions that may be causing them to struggle to lose weight. A few examples include:

• Obesity
• Significant amount of weight that needs to be lost
• Diabetes
• Chronic stress
• Depression
• Hormonal conditions or changes

Our team of weight management doctors and professionals supervise your weight loss program and consider all the factors that will influence your weight loss success. We do not aim for smaller dress or pant sizes, instead we set up targets to help you reach a new level of health to celebrate the achievements your body is making along the way of your new weight management plan.

A few things that may be included in the weight management plan are:

• Lab testing
• Meal advice
• Weight loss strategies
• Supplements / prescriptions
• Medical support from our doctors or other medical professionals
• Mindset changes

Each program and plan with our weight management clinic is customized and done to be supportive of each individual who visits and decides today is the day to start their journey to a healthier lifestyle.
What are the benefits of medical weight loss?


Americans are considered a country with the most obese individuals and have the most health problems in the entire world. It's clear, the United States has a health crisis to deal with, but how do we even start? We are providing access to experienced doctors and other professionals to ensure our patients are being provided a safe, and effective path to long-term weight loss and healthy lifestyle changes.

A few reasons you may want to pursue a medical weight management clinic for medical weight loss includes:

• Avoid surgery
Many think of surgery when medical weight loss is brought up, but we prefer to try and help our patients with non-invasive techniques and lifestyle changes first before considering surgery like lap band or gastric bypass surgery.

• Receive a customized weight loss plan
We customize and take into account your health history and goals when customizing your weight loss plan.

• Get customized weight-related health information
We provide as much professional medical information in relation to your health and health background as possible, so you stay informed and understand the technique to losing weight safely and effectively.

• Get your weight-related issues under control
Weight loss is not just to improve your exterior appearance, but it helps to get under control any conditions you may be dealing with or that may have been in the background about to wreak havoc. This could include diabetes or high blood pressure.

• Safe and effective techniques
Our team will provide safe and effective weight loss techniques including mindset techniques and exercises.

• Professional recommendations when you hit a plateau
Many will hit a plateau when starting a weight loss program whether it be at home or through a medical weight loss clinic. We are here to provide recommendations to help get you through them.

• Constant motivational support
It can be hard changing up your entire life to start losing weight, or when you hit a plateau, that is why our constant motivational support is crucial with medical weight loss. It helps to keep you focused on your goal and keep you motivated to move forward.

• Reduction in hunger and cravings
Provided suggestions like eating more fiber and protein to keep you fuller for longer, we use science-based techniques to help you reduce your hunger and cravings.

• Extra help with eating disorders
Many deal with eating disorders that visit our clinic, we understand the psychological hold food may have on you, that is why we can refer a counselor to help with any additional needs when it comes to the mental aspect of medical weight loss.

• Access to prescriptions if necessary
If diet and exercise are not enough, our doctors may prescribe prescriptions to help kick-start to improve your weight loss.

• Insurance coverage may be accessible
If you suffer from arthritis, excessive back pain, ankle or foot issues, your medical weight loss treatment with us may be covered by your insurance. Talk to one of our doctors today and see if you may be able to use your insurance to cover your medical weight loss treatment with our clinic.

Contact our clinic today for a consultation appointment. We serve patients from Portsmouth NH, Newington NH, Durham NH, Madbury NH, Dover NH, Greenland NH, Stratham NH, and Newfields NH.